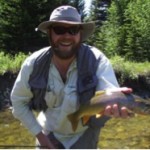 Matt Wilhelm's passion for fly fishing began at age 10 on the banks of the Manistee River in Northern Michigan. Since then Matt has spent his life learning, and sharing with others the sport of fly fishing.
Matt resides in Livingston, Montana in the shadow of the Absaroka Mountains where he calls the Yellowstone River and its tributaries his home waters. Matt is also well versed in the moods of the Paradise Valley spring creeks, and the waters of Yellowstone National Park.
Matt is the Education Director for the Invasive Species Action Network. His duties include developing educational materials and programs for youth and adults that focus on stopping the spread of aquatic invasives and keeping our waters healthy. He also is the fly fishing coordinator for Montana's Hooked on Fishing program where he plans and implements fly fishing and aquatic education programs that reach 10,000 kids per year. Being a big kid himself, and his years of experience working with youth helps Matt to present the sport of fly fishing to kids in ways that are fun and easy to understand.
For his efforts Matt was named Montana Fisheries Educator of the Year by the Montana Chapter of the American Fisheries Society. Matt has been an FFF Certified Casting Instructor since 2000 and obtained his Master Certified Casting Instructor in 2006. Matt conducts around 120 casting classes and demos per year. Because of the success and unique nature of Matt's fly fishing education programs he has been featured on ESPN on two separate occasions. His fly fishing education programs give students the tools and experience they need to be skilled, successful, and ethical fly anglers.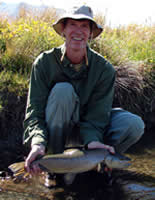 Bill Toone's love for fishing began at the early age of 7 on the waters of his home state Virginia.  Although his early years encompassed all styles of fishing, Bill has been exclusively a fly fisherman for over 20 years.  While primarily a self admitted trout snob, Bill has also successfully fished for many other fresh and salt water species of fish.
Bill lives in Bozeman, Montana having moved from Virginia to pursue his passion for fly fishing and have some of the best trout waters in his back yard, spending countless hours chasing fish around.  While fly fishing on all waters is his love, he is particularly passionate about wade fishing on small to medium size streams and rivers. He loves to teach and share the knowledge he has acquired over his many years of fishing with beginners and experienced fishermen alike.
Bill is Editor in Chief for the Federation of Flyfishers' magazine Flyfisher.  He is also a published author having written articles on fishing such exotic spots as Bonaire and New Zealand.  In addition Bill is a Master Certified Fly Casting Instructor.  He is a member of Trout Unlimited and a life member of the Federation of Flyfishers. He currently serves on the Executive Committee of the Federation of Flyfishers and is active in volunteer work with the Federation.  He is also involved with Project Healing Waters, an organization which uses fly fishing as rehabilitation for severely wounded combat veterans.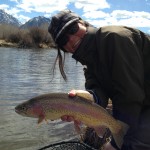 Marya Spoja grew up trying to catch minnows with her hands and in general running around causing trouble on her family's ranch over in Lewistown, a short two-hour drive from Livingston. It wasn't until graduating from college and moving to Livingston that she discovered the joys and frustrations of fly-fishing, which has now fully taken over her life for many years now. For the last 8 years she has worked at Sweetwater Fly Shop helping fly fishermen explore the region we at YFFG call home. In the summer, when not at the fly shop or guiding, you'll find Marya somewhere out there either finding new places to fish or returning to some of her favorite fishing spots. If it's the winter, good luck trying to find her-she's out dogsledding or skiing somewhere most days of the week.